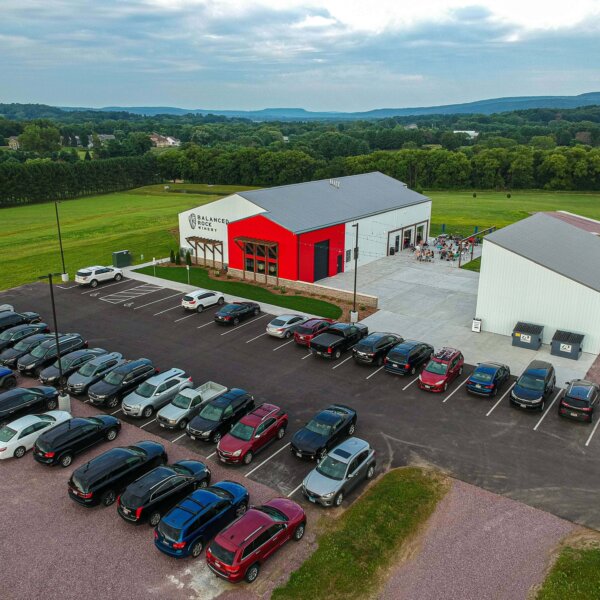 Our Story
The story of Balanced Rock Winery began long before the husband and wife duo of Matt and Kristin Boegner ever set foot in Baraboo Wisconsin.
After meeting at Michigan State University in 2003, Matt and Kristin graduated and traversed the country working for various hospitality companies. Kristin's Michigan roots gave her great appreciation for the beautiful Traverse City wine region, where she and Matt took frequent visits. Yet it wasn't until the couple was working in Monterey California, that they truly developed a profound love for great wine. Eventually work opportunities returned them back to the Midwest with stints in Columbus, Chicago and finally Wisconsin Dells. They ultimately settled in Baraboo Wisconsin with their 2 children and fell in love with the natural beauty of Driftless/Devils Lake region.
The goal of bringing a unique winery experience to the City of Baraboo began in 2015. After years of searching for a location with the perfect soil, sun exposure and temperatures for growing grapes, they found a surprising location within the city limits of Baraboo that the winery now sits on. Located in the remnants of an old industrial park project, the site had been used most recently as a corn field, soy bean field and driving range. As soon as they purchased the land, they began the painstaking process of developing the site for building a 6000 sqft wine production facility and tasting room. Unfortunately, due to the extensive utility and grading work done to the parcel, the couple was forced to wait to begin planting the vineyard. Instead they contracted with Local Wisconsin Grape growers to purchase cold climate grape varietals to produce their first vintage. In future years they plan to have a 7 acre working vineyard with St. Pepin, Brianna, Frontenac, Petite Pearl and Marquette.